We Are Fully Enrolled for Fall 2023/24 School Year
If a child is to keep alive his inborn sense of wonder, he needs the companionship of at least one adult who can share it, rediscovering with him the joy, excitement, and mystery of the world we live in.
― Rachel Carson
Kennesaw Mountain Nature Preschool is a progressive Forest program located at the Foothills of Kennesaw Mountain in Cobb County, GA. We are dedicated to the education of children ages 3 to 6 in a nature based program. We promote nature immersion and child - initiated inquiry in a range of environments. We aim to honor the natural curiosity and sense of wonder in children as they form relationships with each other and the natural environment of the mountain and other natural habitats in Cobb County. Our preschool aims to nurture the holistic development of all participants through the development of confidence, self-esteem, resilience, collaboration, logical thinking and creative expression.
Our school is founded on an image of the child as a competent, strong, and vibrant citizen entitled to an authentic early childhood experience where play is open ended, valued and revered as the work of the child. Our curriculum seeks to follow the flow of the seasons engaging the children's hands, heads, hearts and holistic selves. We aim to inspire a love of learning, a love for the earth and a compassion for all living things.
We are happy to announce our Georgia Bright From The Start licensed program offering an innovative Nature Based curriculum to Cobb County and surrounding communities! 
Kennesaw Mountain Nature Preschool is a progressive nature based program inspired by Nature, Forest Kindergartens as well as the Reggio Emilia Approach.
Our Forest Kindergarten experience focuses on nature immersion to provide a deep and personal connection with our natural places here in Kennesaw, Georgia for children ages 3 to 6 yrs old.
Our mountain setting provides a rich landscape for children to play as active stewards of the local community and environment. Our program will take place in our privately owned woodland area as well as in the local natural passive park areas of Cobb County, Georgia. We will utilize these diverse habitats to offer children natural experiences that have an enormous potential to inspire inquiry from the wonders and curiosities of the natural world. Childhood is a time that we recognize the importance of slowing down with children to experience the ever - changing landscapes in our natural world. In addition, our program also has an indoor studio space where children are dropped off, nap/rest or go to in times of extreme weather situations as a safety protocol.
Key principles of our approach to Forest Kindergarten:
Nature Immersion
Inquiry Based Learning
Play based curriculum
Environmental Stewardship
Place based education
Reggio Emilia inspired ateliers
Very low 1-2 : 6, teacher to child ratio
Time is valued by slowing down
Flexible curriculum development
Honoring the land and natural inhabitants
Study of the natural world year round in all weather
Documentation and Reflection are keys to our Pedagogical approach
Our Use of Time 
We purposely slow down from the typical fast pace of life. We intend to be flexible and not rushed or strictly scheduled as children have a right to slow down and be given time to observe, listen, play and experience nature or each other at their own pace. This intentional pace of learning supports children developing in a range of domains of development including physical, social, emotional and cognitive development. We will be organized and maintain the needs of the children at all times, while enjoying the wonders of the outdoors and the joys of childhood.
Our flow of the day is consistent in including times for rest and enjoying meals together.
*We will always be flexible and take bathroom breaks and exercise hand washing tasks as needed
Meals
Families are asked to pack a healthy lunch for the day. We will provide fresh, organic, gluten free, healthy balanced non sugar snacks with water and milk each day.
Food allergies are a serious matter. Children who have food allergies will be accommodated, whenever possible. If your child requires a special diet, then we ask families to provide a lunch that has been prepared in a way that meets your child's needs.
Wilderness is not a luxury but a necessity of the human spirit
~ Edward Abbey
The Forest Is Our Atelier
West Cobb County is blessed with a handful of large passive parks that provide habitat diversity and thousands of acres to explore. These passive parks are in close proximity to our Nature Preschool and hold unique natural resources that we will visit depending on the season as well as what we are interested in exploring. We look forward to sharing these majestic and inspiring natural places with the preschool children and families as learning about the natural places in our community is an important part of our Place Based learning process.
Kennesaw Mountain National Battlefield Park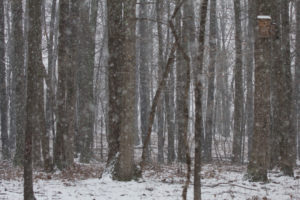 From the top of Kennesaw Mountain the views are spectacular and offer Children the opportunity to view our community from higher ground. The habitat of Kennesaw Mountain is full of outcroppings of stone, creeks and rugged trails. Kennesaw Mountain is also a migratory hot spot making it a special place to see and hear an awesome mixture of song birds during Spring and Fall migration. Our learning takes place around "Our Mountain" regularly to develop a deeper relationship and understanding of the land through the seasons.
The indoor space at Kennesaw Mountain Nature Preschool has been created with forethought to our regional weather and our Bright From the Start GA State licensing regulations to provide a safe place to go in times of extreme weather situations. Our private home base is our regular drop off location and offers an inspiring indoor exploration space as an intentional extension of our work in the field. While we document the process of the children learning, we also preserve, and revisit their ideas for ongoing short term and long term investigations. The documentation of the children's work lends to the projecting of our curriculum, an ongoing sharing with families and pedagogical dialogue between our colleagues in Early Childhood.